1981 2003 Yamaha CLYMER XV535 1100 VIRAGO Service Repair Manual
Video Preview:
Image Preview: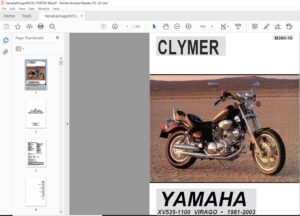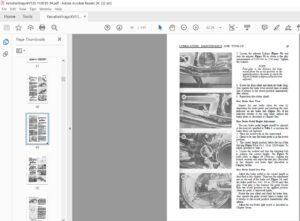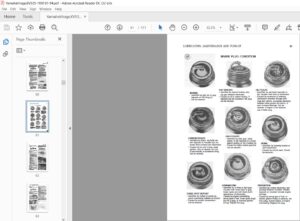 Table Of Contents:
1981 2003 Yamaha CLYMER XV535 1100 VIRAGO Service Repair Manual
QUICKREFERENCEDATA………………………………………..lX
CHAPTER ONE
GENERALINFORMATION………………………………………..1
Manual organization Parts replacement
Service hints Serial numbers
Torque specifications Basic hand tools
Safety first Time-up and troubleshooting tools
Special tips Mechanic's tips
Expendable supplies
CHAPTER TWO
TROUBLESHOOTINGIIIIIIIIIIIIIIIIIIIIIIIIIIIIIIIIIIIIIIIIIIIIIIIIIII16
Operating requirements Clutch
Troubleshooting instruments Transmission
Emergency troubleshooting Front suspension and steering
Engine starting Brake problems
Engine performance Electrical problems
Engine noises Ignition system
Excessive vibration
CHAPTER THREE
LUBRICATION, MAINTENANCEANDTUNE—UP.. .. .. .. .. .. . .. .. .. .. .. .. .. . .20
Routine checks Lubrication
Maintenance intervals Maintenance
Tires and wheels Drive chain
Battery Tune-up
CHAPTER FOUR
Engine principles Oil level switch
Servicing in frame Neutral switch
Engne removal/installation Timing gears
Cylinder heads and camshafis Primary drive gear
Valves and valve components Crankcase
Rocker arm assemblies Crankshaft and connecting rods
Cylinder Middle chive gear
Pistons and piston rings Starter gears
Oil pump'strainer Break-in
Oil pressure relief valve
CHAPTER FIVE
CLUTCH AND TRANSMISSION……………………………………….100
Clutch Shifi mechanism
Clutch cable Transmission
Drive sprocket Shifi drmn and forks
CHAPTER SIX
FUEL AND EXHAUST SYSTEMS115
Air cleaner Fuel shutofi' valve
Carburetors Fuel filter
Coasting enrichener system Fuel pump
Fuel level measurement Fuel tank
Choke cable adjustment Crankcase breather system
Rojetting carburetors Misture control valve
Throttle cable replacement Air induction system
Choke cable replacement Exhaust system
CHAPTER SEVEN
ELECTRICAL SYSTEM145
Charging syst- Starting system
Alternator Electrical components
Voltage regulaton'rectifier Lighting system
Ignition system Switches
Ignitor unit Computerized monitor system
Ignition coil Fuel pump testing
Pickup coil Fuel warning light system
Spark plugs Horn
Pressure sensor Fuses
Description:
1981 2003 Yamaha CLYMER XV535 1100 VIRAGO Service Repair Manual
INTRODUCTION This portion of this detailed and comprehensive manual covers all 1981-1999 Yamaha XVVOO-XVHOO V—Twins.
Two versions of the Model 920 have been produced chain-driven and shaft-driven.
The Euro-style, chain~drive models were offered in 1981 and 1982 and are identified by aanreceeding the model number.
In addition, Yamaha also offered a shaft-driven Model 920 dining 1982. For 1983, however, all 920 models, including all other models covered in this mamral, are shafidriven The expert text contained within this manual gives complete information on maintenance, tune-up. repair and overhaul.
Hundreds of photos and drawings guide you through every step.
The book includes all you need to know to keep your Yamaha nmning right.
Where repairs are practical for the owner/mechanic, complete procedures are given.
Equally important, dim- cult jobs are pointed out Such operations are usually more economically performed by a dealer or independent ga- rage.
A shop mamral is a reference. You want to be able to find information fast.
As in all Clymer books, this one is desiged with this in mind.
All chapters are dumb tabbed. Important items are extensively indexed at the rear of the book.
All the most fi'equentiy used specifications and capacities are summarized on the ericquf'e'rence pages at the front of the book.
Keep the book handy in your tool box and take it with you on long trips. It will help you to better understandyour Yamaha, lower repair and maintenance costs and gener- ally improve your satisfaction with your bike.
Please Note:
⦁ This is the SAME exact manual used by your dealers to fix your vehicle.
⦁ The same can be yours in the next 2-3 mins as you will be directed to the download page immediately after paying for the manual.
⦁ Any queries / doubts regarding your purchase, please feel free to contact heydownloadss@gmail.com